Kredit Automation & Controls, Inc., a Rockwell Automation Systems Integrator Partner, announced today that it has been awarded a contract for its unique DieKlean 360™ post extrusion die cleaning system by Gordon Aluminum Industries, Inc. of Schofield, Wisconsin.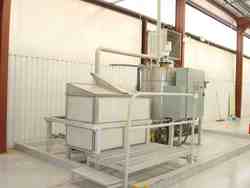 Kredit Automation's Latest Aluminum Extrusion Die Cleaning System
The DieKlean 360-2E1TN is designed to chemically remove aluminum from extrusion dies that are up 17" in diameter at a rate of 112 dies per day. Efficient removal of aluminum from dies is critical to preparing the extrusion dies for re-use. Unlike the process used throughout most of the industry, the Kredit Automation DieKlean 360™ is specifically designed to minimize employee exposure to hot, high pH, caustic liquids, reduce chemical consumption, and speed cleaning time. The fully automated system controls the cleaning (etching) process and automatically neutralizes the waste. In addition to significantly increased safety for the Gordon Aluminum die shop employees, attention to process control results in a high performance die cleaning system that offers up to a 50% reduction in sodium hydroxide consumption and up to a 50% reduction in cleaning time over conventional systems.
Kredit Automation & Controls has installed similar aluminum removal systems in various facilities at Hydro Aluminum, Kaiser Aluminum, and Indalex Aluminum Solutions.

http://www.azom.com/news.asp?newsID=15483